README File Guidelines and Resources#
Your README.md file should be located in the root of your GitHub repository. The README.md file is important as it is often the first thing that someone sees before they install your package.
The README.md file is the landing page of:
Your package as it appears on a repository site such as PyPI or Anaconda

Your package's GitHub repository
Your README.md file is also used as a measure of package and community health on sites such as: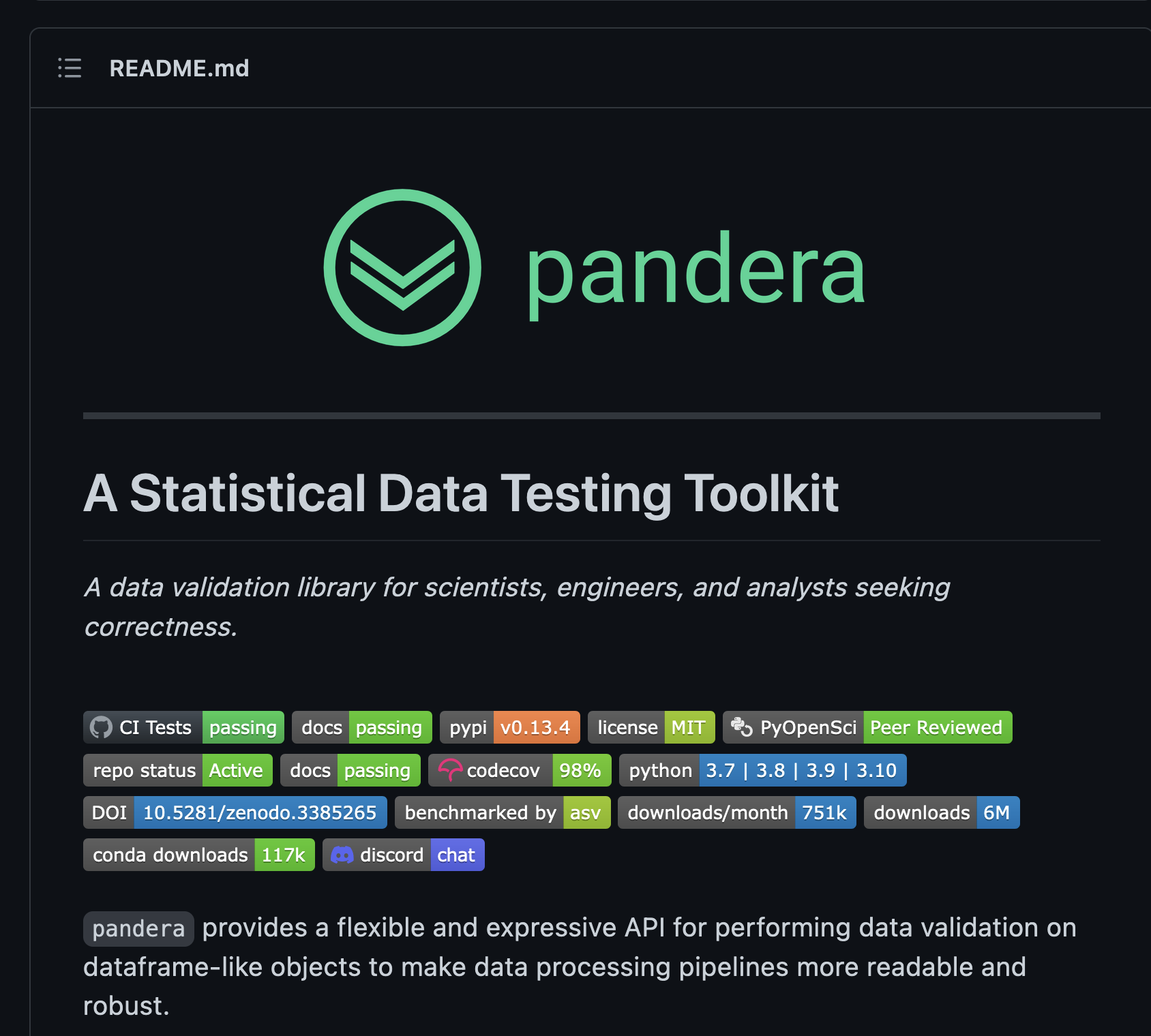 Thus, it is important that you spend some time up front creating a high quality README.md file for your Python package.
Note
An editor or the editor in chief will ask you to revise your README file before a review begins if it does not meet the criteria specified below.
Please go through this list before submitting your package to pyOpenSci
### pyOpenSci README checklist

Your README file should have the following information:
- [ ] The name of the package
- [ ] Badges for the packages current published version, documentation and test suite build. (OPTIONAL: test coverage)
- [ ] Easy-to-understand explanation (2-4 sentences) of what your tool does
- [ ] Context for how the tool fits into the broader ecosystem
- [ ] If your library/package "wraps" around another package, link to the package that it is wrapping and any associated documentation. *(HINT: If you don't know what a wrapper is, this probably doesn't apply to you!)*
- [ ] A simple quick-start code example that a user can follow to provide a demonstration of what the package can do for them
- [ ] Links to your package's documentation / website.
- [ ] A few descriptive links to any tutorials you've created for your package.

What your README.md file should contain#
Your README.md file should contain the following things (listed from top to bottom):