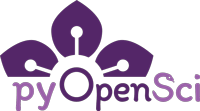 pyOpenSci promotes open and reproducible research through peer-review of well-documented and tested scientific Python packages.
You may also enjoy
2 minute read
Learn more about our new pyOpenSci Community Manager, Jesse Mostipak, in her first pyOpenSci blog post!
8 minute read
pyOpenSci held a community birds of a feather session at the 2023 RSE meeting in Chicago where we discussed peer review and packaging pain points. Learn abou...
6 minute read
This position has been filled. pyOpenSci is hiring a community manager. This position will oversee numerous aspects of pyOpenSci's community building efforts...